Spotted Lanternfly Quarantine Area Expanded – July 11, 2022

Virginia's spotted lanternfly quarantine zone, which includes the City of Winchester and the counties of Clarke, Warren and Frederick, expands in July. The expanded quarantine zone includes the cities of Buena Vista, Charlottesville, Harrisonburg, Lexington, Lynchburg, Manassas, Staunton, and Waynesboro, and the counties of Albemarle, Augusta, Carroll, Page, Prince William, Rockbridge, Rockingham, Shenandoah, and Wythe.
While there have been no confirmed sightings of the spotted lanternfly in the Northern Neck, be careful when traveling to the quarantine portions of Virginia and other states where the spotted lanternfly has been confirmed. The spotted lanternfly is a hitching bug and can easily move from one area to another on vehicles or materials.
Information about residential control of the spotted lanternfly is available at https://www.pubs.ext.vt.edu/ENTO/ENTO-322/ENTO-322.html
The VCE publication about Best Management Practices for Spotted Lanternfly in Yards and Landscapes is available at https://www.pubs.ext.vt.edu/ENTO/ENTO-344/ENTO-344.html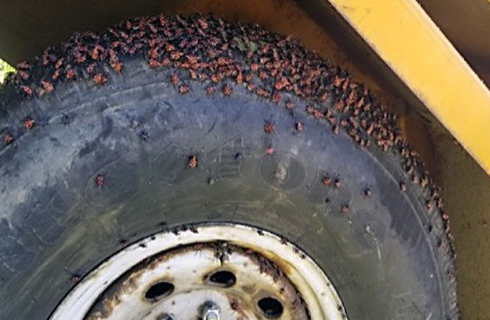 Fall Armyworm Lawn Damage
We have received several reports of fall armyworms infesting and damaging lawns. If you see brown spots or patches developing in your lawn, investigate them. If it's armyworm damage, you'll know because you'll see the armyworms in your lawn (see the photos below). If you see armyworms, don't delay. They can seriously damage lawns in a short time.
Cool season grasses, such as bluegrass, ryegrass, and fescue, are more susceptible to permanent damage. Warm season grasses, such as Bermuda grass and zoysia, are more likely to recover.
Contact your local Extension Master Gardener Help Desk or Virginia Cooperative Extension office for recommendations on treating armyworms.
The U.S. Department of Agriculture's Animal and Plant Health Inspection Service (APHIS) has confirmed the presence of box tree moth, Cydalima perspectalis, in the continental United States and is taking action alongside state partners and industry to contain and eradicate the invasive pest that was imported on nursery plants shipped from Ontario, Canada.
The box tree moth can significantly damage and potentially kill boxwood plants if left unchecked. Between August 2020 and April 2021, a nursery in St. Catharines, Ontario shipped boxwood (Buxus species) that may have been infested with box tree moth to locations in six states—25 retail facilities in Connecticut, Massachusetts, Michigan, New York, Ohio, and South Carolina—and a distribution center in Tennessee. At this time, the pest has been identified in three facilities in Michigan, one in Connecticut, and one in South Carolina, and APHIS is working with state plant regulatory officials to determine whether other facilities may be impacted.
Virginia House Joint Resolution 527 Passed by General Assembly – Goes to Governor for Signature
House Joint Resolution 527 calls for a study exploring options for phasing out the propagation and sale of invasive plants in Virginia's horticultural industry. Examples include English Ivy, Japanese barberry, Japanese pachysandra, Chinese wisteria, burning bush, Chinese silvergrass, privet, Callery pear, etc. The study group, which will include representatives from the nursery and landscaping industry, state agencies, and environmental groups such as the Virginia Native Plant Society, will produce a report of their recommendations and findings. This is a big step forward in the fight against invasive plants!
Virginia's Spotted Lanternfly Quarantine Zone to Expand
Virginia's spotted lanternfly quarantine expands to include Clarke and Warren Counties. Frederick County and the city of Winchester are already under a SLF quarantine. Though they will not be included in the quarantine expansion, small spotted lanternflly populations have been identified in Shenandoah County, Page County, and Augusta County. If you travel to that area of Virginia, make sure you don't bring home any unwanted hitchhikers and check for spotted lanternfly egg masses.